What would summer be without summer dresses?
Frankly, I can't even comprehend it.
A girl can never have too many cute summer dresses,
and this pretty pink number I sewed back in April is one of my newest additions.
This is what I was trying to copy.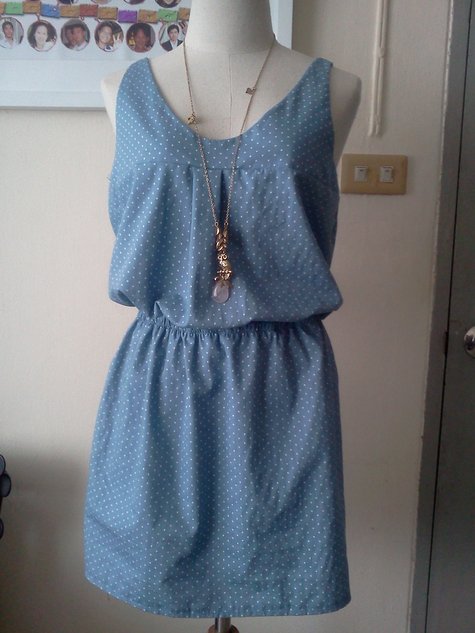 Isn't this just adorable?
Borrowing from the look of this dress, and some of the ideas from the free pattern,
I mashed the two together and kind of made it up as I went along.
Taking my hip measurements, adding some extra for ease and seam allowance,
I created a tube that I sewed up in the back, leaving a slit.
This was the body of the dress.
For the bodice I needed a guide, so I traced the bodice from another dress I liked.
I make it sound like no big deal, but for a beginner, this took a long time,
including some frustrating set backs.
In the free pattern, a full bodice top is used, from arm to arm.
I tried that...it didn't turn out symmetrical...big mess...nope.
Don't do that.
Instead I used half of my bodice pattern and cut it out on a fold.
Much better.
There was still a little glitch though...as it turned out, my shoulder straps weren't long enough,
so I had to improvise.
Truthfully, it turned out to be a unique design alteration that I like!
I made a small tube strap extension, sewed it in between my too-short straps,
then I gathered it in the middle and sewed it...
resulting in a cute little bow.
Personally, I think my mistake turned into a fun element!
What do you think?
Next, I gathered the top of the dress tube,
added a box pleat to the center front,
then sewed it to the bodice.
I added an elastic waist band, hemmed up the bottom and was done.
It looks best with a chunky belt.
This dress is really comfortable, and I like the shorter length...
sometimes it just gets too hot here to wear anything long!
All in all, a great casual day dress.
Oh yeah, and isn't that fabric lovely?
Would you believe I picked it up at a local store for $0.50 a yard?!
I ended up with 5 yards of this pretty pink!
I still have lots left over...I guess that means another project is in order...